Top McCarthy Henchman Threatening to Vote for Jeffries Advises Epstein-Tied CCP Influence Operation
By FRANKIE STOCKES
China-tied Rep. Don Bacon is threatening to vote for a Democrat for Speaker if Republicans don't fall in line behind Kevin McCarthy.
Nebraska Rep. Don Bacon, the Kevin McCarthy henchman who's threatening to back a Democrat for Speaker if McCarthy can't secure the votes, advises an Epstein-tied, Communist Chinese influence operation that's been extensively investigated and reported on by National File.
National File can report that Don Bacon, the GOP Rep. threatening to back Hakeem Jeffries for Speaker of the House should conservatives not fall in line behind McCarthy, is advising the Humpty Dumpty Institute (HDI), an Epstein-led, CCP-tied influence operation that's already ensnared Republicans and Democrats alike, including Richard Grenell and Adam Schiff.
Rep. Bacon actively appears on the Humpty Dumpty Institute's website and is listed as a member of the CCP-tied influence group's "Congressional Advisory Board," along with other McCarthy Republicans, like Reps. Buddy Carter and Barry Moore.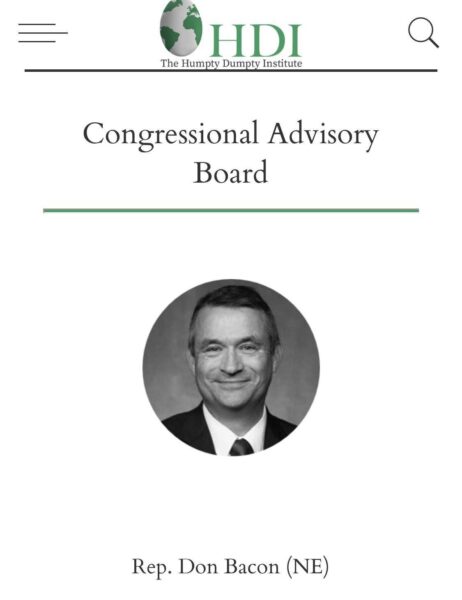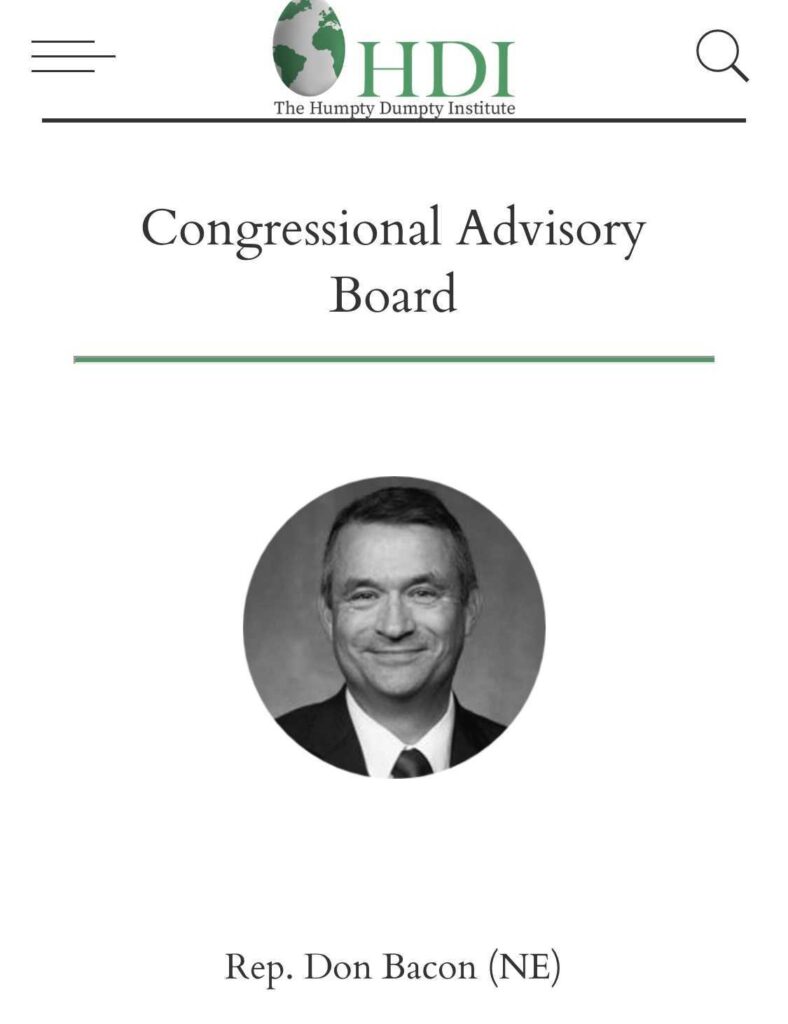 As National File reported recently, despite tough talk on combating the Chinese Communist Party and their global subversion operations, the congressional GOP is neck-deep in HDI-CCP-PLA connections and leading voices within the conference are refusing to do anything about it.
Considering HDI's left-wing slant and ties to international communism, it should come as no surprise that the advisory board Bacon sits on is also full of radical Democrats, like Reps. Maxine Waters, Hank Johnson, Bennie Thompson, and Debbie Wasserman-Schultz.
Led for years by Mark Epstein, the brother of deceased pedophile Jeffrey Epstein, the Humpty Dumpty Insitute has not only been linked to the Chinese Communist Party but also its People's Liberation Army and Taihe Institutes.
It's also affiliated with numerous communists around the globe, like Maria Bokova, a KGB-trained operative who's held high positions at the United Nations and is herself closely tied to Lula de Silva, Brazil's far-left President who was recently elected by way of an electronic vote marred by fraud and irregularities.