Former US President Obama to Visit Australia on Speaking Tour
By Epoch Times Sydney Staff
Former United States President Barack Obama will visit Australia in March 2023 to share his leadership experience in Sydney and Melbourne.
Obama, the 44th American president who served in the White House from 2009 to 2017, has been invited to a series of paid speeches held by business event organiser Growth Faculty to "discuss strength in leadership and explore techniques for navigating an unpredictable future."
"In times of great challenge and change, President Obama's leadership ushered in a stronger economy, a more equal society, a nation more secure at home and more respected around the world," Growth Faculty chief executive Karen Beattie said in a statement.
"There's no leader better equipped to share their experience, unique strategy, and wisdom, and we're thrilled he's chosen us for this limited and exclusive event."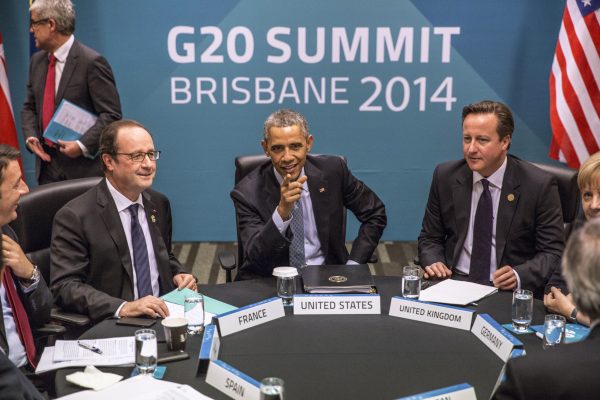 U.S. President Barack Obama attend the Transatlantic Trade and Investment Partnership (TTIP) meeting at the G20 Summit in Brisbane, Australia, on Nov. 16, 2014.
Growth Faculty hosted Obama and his wife, Michelle Obama, in Singapore in 2019, according to Beattie. Remaining a big attraction for Democratic candidates, the former president has been speaking around the world and has billed AU$600,000 (US$400,000) an hour for speeches in the past.
The company has also previously brought former Secretary of State Hillary Clinton, 2014 Nobel Peace Prize laureate Malala Yousafzai, New York Times bestsellers Malcolm Gladwell, and Oscar winner George Clooney to Australia.
The first African-American president's last official visit down under was in November 2014 for the G20 leaders' summit in Brisbane.
In November 2011, Obama addressed a joint sitting of the Australian federal parliament in Canberra at the invitation of then Prime Minister Julia Gillard, the first and only female prime minister in Australian history who lead the centre-left Labor Party.
Obama is also the first American president to visit the Northern Territory, where the renowned Ayers Rock, also known as Uluru, is located.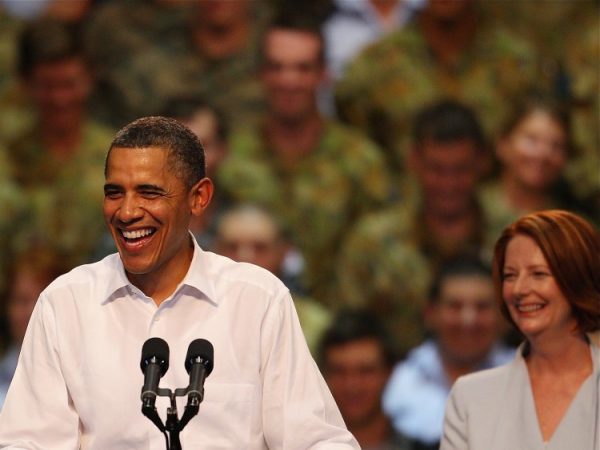 President Barack Obama addresses the troops at RAAF Darwin as Australian Prime Minister Julia Gillard looks on during the second day of his 2-day visit to Australia, on Nov. 17, 2011, in Darwin, Australia.
Obama's visit will come before President Joe Biden's visit for a Quadrilateral Security Dialogue leaders' summit in Australia in the first half of 2023.
Leaders of India and Japan, the other two members of Quad, will also attend the summit.
Tickets for the events, named "an evening with President Obama" have already been on sale from Nov. 24, which range from AU$195 – 445 (US$132 – 301).
Those who can't attend the event in Sydney will be able to buy tickets for a live stream of Obama's address online.
Original source: https://www.theepochtimes.com/former-us-president-obama-to-visit-australia-on-speaking-tour_4884887.html