NYC Drag Marchers Chant "We're Coming for Your Children" and at "Seattle Pride" Adults Riding Bikes Exposed Their Genitals in Front of a Crowd, Including Young Children
Click Here To Play the Video – Part 1
Click Here To Play the Video – Part 2
NYC drag marchers chant 'We're coming for your children' during Pride event
Controversial group Sisters of Perpetual Indulgence attended event.
Hundreds of drag queens and kings filled the streets for the 29th annual New York City Drag March on June 23, 2023. 
LGBTQ activists at New York City's annual drag queen parade chanted, "We're here, we're queer, we're coming for your children," in Manhattan on Friday.
The group of hundreds of drag queens and other members of the LGBTQ community marched through NYC's Tompkins Square Park. The Drag March parade kicked off NYC's "Pride Weekend," which marks the anniversary of the 1969 Stonewall Riots, a major moment in the success of gay rights in the U.S.
Friday's drag march went through NYC's East Village and ended at the Stonewall Inn.
Video shared on social media showed that, in addition to chants about "coming for your children," marchers could be heard saying, "We're here, we're queer, we're not going shopping."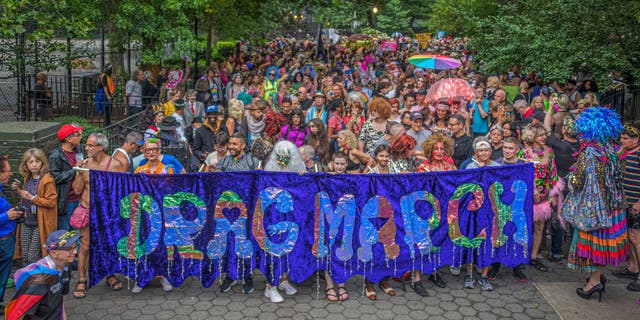 The anti-Christian group last made national news when the Los Angeles Dodgers chose to honor them at the team's annual LGBTQ Pride celebration earlier in June.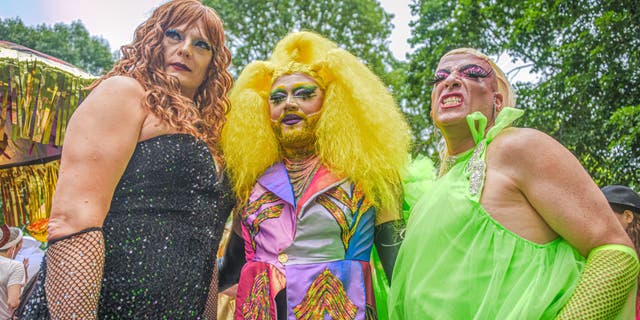 ——————–
Resources:
https://t.me/disclosetv/11436
https://www.disclose.tv/id/p4ic9x22l0
https://www.foxnews.com/us/nyc-drag-marchers-chant-were-coming-your-children-during-pride-event