They Are Trying To Revoke Dr. Pierre Kory's License To Practice Medicine
By Steve Kirsch
He just got the notification. Any doctor who uses early treatment to save lives is going to have their license to practice medicine revoked. That's just the way it goes.

ABIM is trying to take away Dr. Pierre Kory's license to practice medicine for spreading "misinformation"
I wrote earlier about the efforts of the American Board of Internal Medicine (ABIM) to take Peter McCullough's license away.
Now they're doing the same thing to Dr. Pierre Kory as well!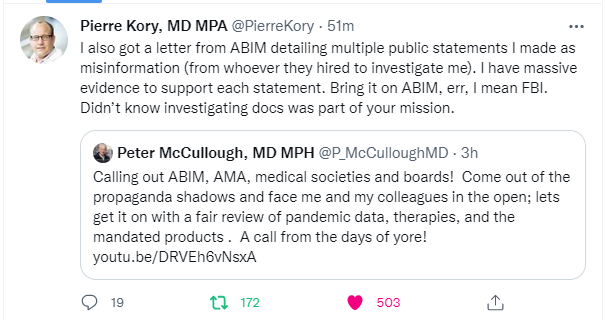 The mainstream medical community of course isn't saying a word to support either doctor. Just silence.
Note that ABIM cannot unlicense a physician. They can list the physician as "no longer board certified" but licensing is done by each state independently. However, once one Board decertifies you, it can have a ripple effect and this is clearly their intent. In many states, decertification by ABIM has no practical consequence.
"That's just the way it goes," as Dr. Eric Rubin would say.
Exclusive FBI evidence
Pierre was lucky enough to find evidence that the FBI is now tracking his tweets. Here's the exclusive photo he was able to obtain, complete with a helpful captions that explains what the agent is thinking: