Ron DeSantis Signed COVID Law Allowing Forced Injections by 'Any Means Necessary'
By FRANKIE STOCKES
The COVID reality is far different from the COVID narrative when it comes to Florida Governor Ron DeSantis…
Florida Governor Ron DeSantis signed COVID legislation in 2021 giving state health authorities the power to forcibly quarantine and inject anyone who "state health authorities" deem to be a risk to public safety, using "any means necessary" to do so.
On May 3rd, 2021, Florida GOP Governor Ron DeSantis signed Senate Bill 2006 into law, giving state health authorities massive power over the people of Florida, while authorizing the imprisonment and forced injection of anyone deemed a risk by those authorities. At the time of the bill's signing, DeSantis and others in Florida's government presented it as a ban on so-called "vaccine passports," but buried within the legislation is an unprecedented attack on the civil liberties of American Citizens.
As a result of DeSantis-signed SB 2006, state health authorities have the power to "order an individual to be examined, tested, vaccinated, treated, isolated, or quarantined for communicable diseases," if those health authorities believe the diseases "have significant morbidity or mortality and present a severe danger to public health."
In the case of COVID, which has a more than 99% survival rate, state health authorities made this exact claim and, though false, it led to the biggest clampdown on civil liberties in American history.
Furthermore, SB 2006 states that if an individual is deemed to pose "a danger to the public health, the State Health Officer may subject the individual to isolation or quarantine."
"If there is no practical method to isolate or quarantine the individual, the State Health Officer may use any means necessary to vaccinate or treat the individual."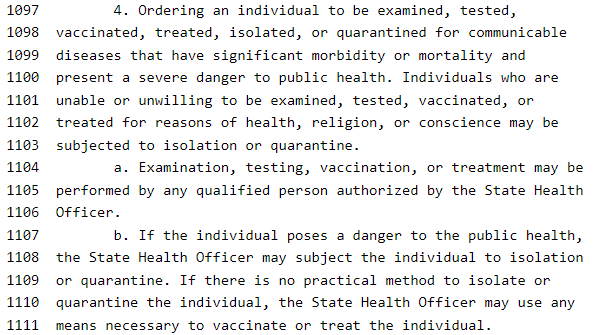 Also under the DeSantis-signed legislation, "any order of the State Health Officer" is "immediately enforceable" by law enforcement, turning police officers into state quarantine and injection agents. What's more, is that the law even calls for volunteers to help the authorities in their forced quarantine and injection quests, offering up rewards to those who are willing to help.
"Individuals who assist the State Health Officer at his or her request on a volunteer basis" are entitled to "benefits," the legislation declares, immediately after laying out the ways that Florida's State Health Officer can force injections into the arms of American Citizens.


Read Senate Bill 2006 HERE
The truth of SB 2006 comes to light as Governor DeSantis prepares for a widely-expected 2024 presidential run, and as his supporters try to paint him as a COVID freedom fighter, opposed to wide-reaching government mandates and power grabs.
In reality, that claim is far from the truth, and DeSantis has been slammed for having shut down Florida's schools, businesses, and beaches by executive order, even stopping Floridians and tourists from celebrating America's birthday on the Fourth of July.
President Trump has gone on the offensive in relation to DeSantis's COVID actions in recent days, posting a video to Truth Social that shows Governor DeSantis using a 100-year-old World War 2 veteran as a "guinea pig" and having him injected with a COVID on television. The veteran, Henry Sayler, died just four months later.
"Ron DeSoros used a 100-year-old WW2 veteran as a vaccine Guinea pig on live TV. The veteran, Henry Sayler, died 4 months later. But sure, DeSantis would have fired Fauci," President Trump wrote in a scathing post to TruthSocial.