Australian Actress Suffers an All to Common Side Effect of a Stroke After Taking AstraZeneca Vaxxine and MSM Tries To Spin Its Rare As They Are Paid Millions To Cover Up Vaxxine Death and Injuries
Australian actress Melle Stewart is re-learning how to walk and talk following a stroke brought on by her first AstraZeneca jab.
The 40-year-old, who is from Brisbane but lives in London with her actor husband, Ben Lewis, received her first dose of the vaccine on May 24. Two weeks later, she suffered a stroke and was rushed to hospital. Her condition quickly deteriorated, with Stewart losing all movement in the right side of her body and her ability to speak.
One of Stewart's family members set up a crowdfunding page, titled 'Help Melle Stewart after life-threatening stroke', to help with her medical expenses.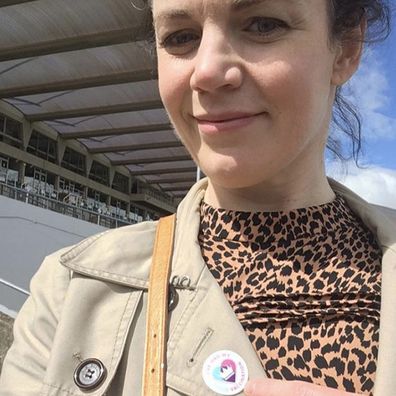 Australian actress Melle Stewart is re-learning how to walk and talk following a stroke brought on by her first AstraZeneca jab
"She began having seizures and was taken by ambulance to St George's Hospital, London, where neurosurgeons battled to save her life, removing a large part of her skull to reduce the pressure in her brain," they said on the page.
Stewart was diagnosed with Thrombocytopenia Thrombosis syndrome (TTS), a rare side effect that has been linked to the AstraZeneca vaccine. The risk of death due to TTS from receiving the AstraZeneca vaccine is one in a million.
"Unfortunately, Melle had had a severe stroke, caused by two large clots in the main veins of her brain, with the pressure and low platelets causing a secondary bleed in the left frontal lobe.
"Melle spent 3 weeks in an induced coma during which time she was ventilated and received a number of blood transfusion procedures to help remove the antibodies created by the vaccine that were causing the clots. She was also put on heavy doses of anti-clotting and anti-seizure medication, which continue to this day."
The actress, best known for her stage work in Australia and in the UK, spent almost five weeks in ICU. She was then transferred to an Acute Stroke Unit for rehabilitation before moving to a specialist hospital in London on September 8.
The page states Stewart "has been and continues to be an advocate for vaccination."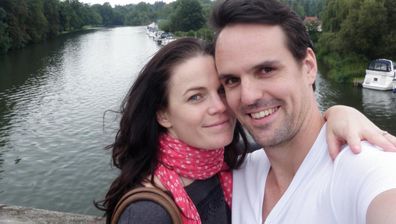 Melle and Ben live in the UK, but their families remain in Australia
She is expected to remain in hospital until 2022 and is currently relearning "how to walk, talk and move her right arm and hand."
The couple has struggled due to their families being back in Australia. So far the page has raised almost $170k, which is intended to help offset medical and life expenses including a loss of income, ongoing rehab, relocation and modifications to their home and eventually traveling back to Australia when Stewart is strong enough.